Front Porch Stories: Seeing my friends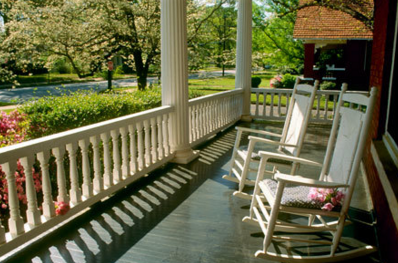 By KATHY BOHANNON, Special to The Shopper
My husband and I have been "sheltering in place" for so long, I almost forgot what it was like to be with friends. Never, in my entire life, have I been separated from friends for an entire year. Never did I even consider such a thing. If I had, I most likely would have underestimated the level of longing to just be with a sweet sister in Christ.
While we expected the whole event to be over in a few weeks, I had to stay at home due to some pretty extensive surgery. In a few months my husband had his very own extensive surgery.
With the two of us somewhat incapacitated during the scariest of Covid days, we had groceries delivered and didn't leave the house unless we had a doctor appointment. We barely saw our kids or grandkids and were hesitant to hug when we did see them. The whole thing was unprecedented and we didn't like it one bit.
"Get the vaccine or don't get the vaccine" was on our minds after the first many months of volunteer quarantine. With so much political unrest, we had stopped watching MSM (mainstream media) and started getting much more discerning over what was fed into our hearts and minds. We became very aware of what we feel are agendas.
A new year came with very little change in our lives. We finally began going out a little, hoping our few visits to our favorite mom and pop restaurant would help to keep them in business. We wore masks (often still do) and we finally ventured into our church service. While the message was wonderful, I cried on the way home. In order to "stay safe," we entered after everyone else through a side door, sat near that door, and left as soon as possible. The mask I wore was difficult to breathe in, and I was miserable. I saw the backs of friends I'd longed to see for nearly a year. I saw my pastor from a far distance. So many things were missing in that first visit; the hugs, the handshakes, the smiles. We missed our "family" of the church.
Knowing it's controversial, I'll say this: we received the vaccinations. It took forever to decide and regardless of the outcome, I respect our decision based on the information we had at the time. There were no side effects and we have since enjoyed living our lives again.
I joined several friends for a five-day crafting event. Fourteen days later, no one had the dreaded Covid. We shopped, went to restaurants and enjoyed one another's company. I consider that time a huge gift, as I had been pretty much nowhere significant since March of 2020.
I think the absolute best part of this whole experience is seeing my friends, my church family and my pastor in person. It is like a salve to my soul.
I gave my testimony about my grandchild's cancer recently at a women's conference. It was the first time I'd shared it and my first speaking engagement in more than a year. When I was finished, I sat back down by my best friend. Overwhelmed at how God has worked in the life of this child, I cried on my friend's shoulder. There's something about having a sister in Christ to lean on. I am so thankful.
••••••••••••••••••••••••••••
Kathy Bohannon is a freelance writer living in Newnan with her husband, Ninja Man. An avid crafter, Kathy teaches at Kathy Bohannon Creatively Blessed on Facebook and YouTube. Kathy can be reached at [email protected].