The Front Porch: Overcoming Fears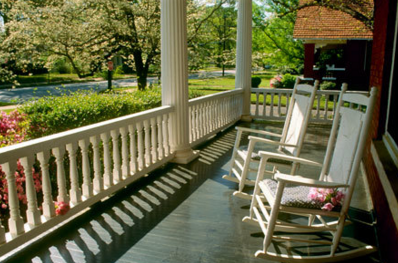 By KATHY BOHANNON, Special to The Shopper
When I was expecting my first child, I was afraid of what would happen during labor and the pain I would be in. I considered if I would be able to endure the moments leading up to what it would take to eventually hold my child in my arms. 
I was fearful. 
My first cruise was in celebration of my husband's 50th birthday. I was so afraid that I was sick the night before. I didn't want to go, yet it was important to him, so even though being on a ship was the last thing I wanted, I went. 
I've never been one to jump into dread and anxiety, but for better or for worse, I am one who takes control. Having once survived a fire, I'm always aware of exits. It's just what I do; look for exit signs in large buildings, hotels, etc. I didn't actually realize it to be a "thing" until there was an emergency in a movie theatre and I quickly looked around to see which adult had too many kids with them. I knew I'd help get those kids out if needed. 
My latest "fearful" event was the scared-stiff moment in my first day of caregiving for my grandlittle Wren. Her mom and I were in charge of getting her to the hospital for a week of chemo. I drove to Atlanta, we unloaded our gear into a wagon, and I watched as my daughter pulled that 16-month-old baby in the wagon towards the elevators. 
My legs would absolutely not move. My knees were locked. As the wagon went further away, I pleaded to God to give me "just one step." 
He did. 
I had to pray for every single step all the way to infusion. Yes, the fear overcame me, the knowledge that I would need to be strong for my child and grandlittle when all I wanted to do was curl up on the concrete parking lot and wait to be scraped up by something, anything, that could move my body so I didn't have to. 
My heart prayed all the way. "One step, Lord, please just give me one more step." 
He gave me every single step I needed. 
There are so many things to be fearful about today. But not once do the scriptures tell us that God has given us the spirit of fear. 2 Timothy 1:7 makes it clear: "For God gave us a spirit not of fear but of power and love and self-control." Philippians 4:6 also addresses this. "Do not be anxious about anything, but in everything by prayer … let your requests be known to God." 
I asked for comfort and guidance during my pregnancy. God gave me the incredible comfort of a vision of my child. I knew I would see her and I was changed at that moment, knowing He would see me through. 
I prayed about my fear on the ship, God comforted me and gave me the tools to navigate my anxious heart. 
He removed the fear that froze me in place, gave me a step by step miracle so I could help with my daughter and grandlittle. 
God doesn't GIVE us fear, but He can surely take it away. The times we are living in can be endured by His promises. The fear? Since He doesn't give it to us, we shouldn't want it, keep it, feed it or share it.  God has us. He is still in the business of miracles. We just need to ask Him the way.
••••••••••••••••••••••••••
Kathy Bohannon is a speaker, wife, mom and avid crafter. She can be reached at [email protected].