Ask The County Agent: How do I get rid of Wild Onions in my yard?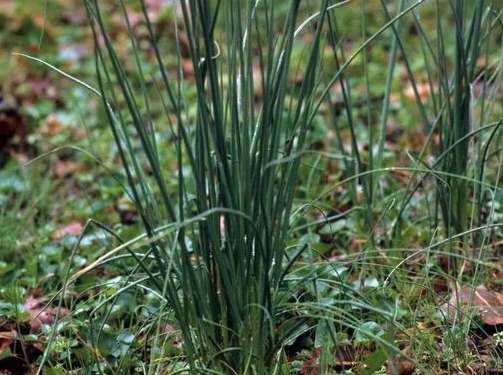 By Stephanie Butcher, UGA-Coweta County Extension Office
Question: How can I prevent wild onions from growing in my yard every year?
Agent:  Wild garlic and wild onion are common but difficult weeds to control. These winter perennials emerge from underground bulbs in late fall and persist through winter and spring until our hot, dry Georgia summer sends them into dormancy. Both of these weeds have similar green, waxy leaves and a strong pungent odor, but wild garlic leaves are round and hollow and wild onion leaves are flat and solid.
If you only have a few plants, you may consider pulling the weeds by hand, but this can be challenging because of the underground bulbs. The leaves have a tendency to break off leaving the bulbs below ground to generate new leaves. If you decide to remove the weeds by hand, consider using a small trowel in order to get the entire plant.
If your lawn has too many weeds to remove by hand, then consider chemical options. Preemergent herbicides are not effective, so you will need to apply a postemergent herbicide. There are several products to choose from including imazaquin, which provides excellent control with repeat applications. It can be found in local garden centers under the trade name, Image. Pay close attention to the product label because 'Image' is sold with several active ingredients. The 'Image' you want contains the active ingredient, imazaquin.
Three-way broadleaf herbicides with 2,4-D, dicamba, and MCPP also provide good control with repeat applications and can be found under the trade names: Bayer Advanced Southern Lawn Weed Killer, Spectracide Weed Stop, Trimec Southern and several others.
When purchasing and applying any herbicide, always read and follow label directions and recommended application rates to ensure the product is safe for your turfgrass. For example, imazaquin should not be applied to fescue, any turfgrass emerging from winter dormancy, or to newly planted or sprigged turfgrasses. This product is also not recommended for St. Augustine grass during winter months. Three-way herbicides with 2,4-D, Dicamba and MCPP should not be used on 'Floratam' St. Augustine, and the lowest recommended rates need to be used on bermudagrass, centipede and St. Augustine.
For more information about controlling winter weeds, email [email protected] or call 770-254-2620.
••••••••••••••••••••••••••
"The University of Georgia College of Agricultural & Environmental Sciences is an Equal Opportunity, Affirmative Action, Veteran, Disability Institution."
Photo credit: The Ohio State Weed Lab.