Front Porch Stories: Hip injury leads Ninja Man to a shower cleaning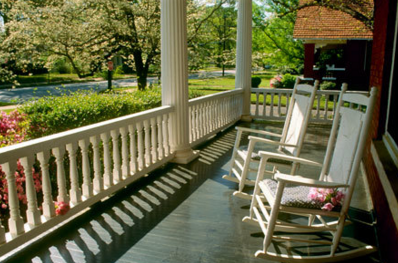 By KATHY BOHANNON, Special to The Weekly
I did something to my hip recently and the result has been many days of very little movement. As I was lying on the sofa contemplating my life choices, I realized how much my house could use a deep cleaning. I tend to realize things like that when I can't do anything about it. 
I went online and began looking for solutions for cleaning while having a hitch in one's get-along. 
I get into a mood like that, and next thing I know I've added to cart. Sometimes I "drive" that cart around for days, leaving it in the abyss that is the Internet until I decide to buy it or not. But I will click "buy now" if it's not a big decision.
I have this idea that purchases over, say $25 should go through the system before funds are released, so I consult the system. 
Me: "Honey, look in the Amazon cart. I found something we need." 
Ninja Man: (Opens the Amazon app.)
Me: (Waiting while he comparison shops the same items. This process may take moments or until next month. One never knows.)
At some point, we either agree and click on the magic "buy now" button, or we don't agree and have a discussion where we review options.  
This past week I was over, and I mean OVER the grime in the skinniest places of the shower. I found a steam cleaner as well as some kind of rechargeable, spinning wand thing that has a telescoping handle and various brush heads. I thought of how it would prevent me risking life and limb when crawling around on the bathroom floor. The fact that this invention was exciting proved that I am now old enough to need telescoping handles in my life. 
Ninja Man quickly agreed (on the purchase, not my age, although that one is terribly obvious) and he completed the transaction. 
I realized I was watching for the delivery truck for most of the morning. That's a clear sign that my life has come down to three basic things:  wishing my house was cleaner, cleaning the house or waiting on cleaning supplies to arrive. 
Once it arrived, Ninja Man, who always loves to get a box dropped in the yard, opened it and began charging it for me. The little red light mocked me as I peeked over again and again to see if it had enough life in it to perform the duties and live up to all of my expectations. 
As soon as that green light flickered on, I grabbed that rascal and started cleaning the shower. 
The spinning brush caused quite a stir in the bathroom. I quickly decided I needed some sort of shield of protection, as whatever I was scrubbing out of the nooks and crannies was definitely flying over to other parts of the bathroom. 
I considered my options. Mask: maybe. Gloves: definitely. Helmet: overkill. There was just one more option…
"Ninja Man!" I called out, "Come see how well this thing works!" It only took a moment for him to take it and turn on that spinning distributor of all things gross. I slipped out quietly, listening to the hum of the shower getting cleaner and cleaner. 
I think this purchase was a good one. That shower looks great now. 
Kathy Bohannon is a Christian humorist and inspirational speaker and writer. She can be reached at [email protected].