Front Porch Stories: Answered Prayers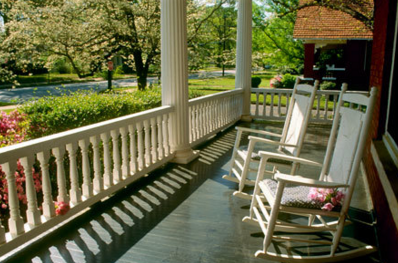 By KATHY BOHANNON, Special to The Weekly
As John 15:7 tells us, Jesus spoke to the disciples: "If you remain in me and my words remain in you, ask whatever you wish, and it will be done for you."
Although we often hear this being preached out of context, it's clear that this doesn't mean wealth, new cars or anything like that. It means that when we follow the Word of God and His commandments that our prayers would be heard. Jesus was speaking to the Apostles, and encouraging them in their circumstances.
I'd like to clarify that I have just an average Christian background, having the education only as a member of congregations since I could crawl. So, it was with the faith I gained as a believer that I prayed for something, and my prayers were answered.
I was a wife and young mom who worked full time. I needed someone to tell me how to navigate my identity and all the challenges that went with it, and I really needed that someone to be a close confidant. There was no such thing as Google, no social groups that I could tap into. There were no resources for any support for what I was experiencing minute by minute, hour by hour, day by day. I had friends, but I needed someone who had already "been there, done that" and someone who also had time for me.
I was struggling and I knew God would provide because He knew my heart. So I prayed, and that's when I met Ruth. I met her when she came into the office I worked in. It wasn't long before she and I were friends, and very soon, close friends.
Ruth became my "been there done that" friend who took me under her wing. She listened when I was stressed. She gave me her advice, which I took every single time. She shared her wisdom as a big sister would, and I loved her just for being who she was.
She also inspired me. She was the most creative person I had ever known, and much of my creative "genes" came from her, though we were not from the same family. She was a writer, a decorator, a collector, and I often teased her by saying I wanted to be just like her when I grew up.
Ruth was originally from Maine. Wow, did God ever fill my request! Maine was the only place on the planet that I wanted to visit. Ever since my elementary school years, something about Maine just tugged at my heart. I could listen to Ruth talk about Maine for as long as she wanted. She talked about her dad, a fisherman. Her mom, raising kids. The heart surgery she had as a child. Her aunt, who lived on an island off the coast and had to use a small boat to navigate from shore to shore. I was fascinated.
Ruth passed away a year ago this past September. She was in her eighties, and I was busy with grandchildren during her last year of life. I saw her only twice that year, and though I wish I had been with her more, I'm thankful for the time we did have.
She gave me a lap quilt that I keep in my chair, and every single day I think of her. I think of Ruth and how thankful I am that we ever met at all.
But of course, we would have met, because I know firsthand that God answers prayers.
Kathy Bohannon is a freelance writer. She can be reached at [email protected].