Front Porch Stories: Family China Cabinet full of memories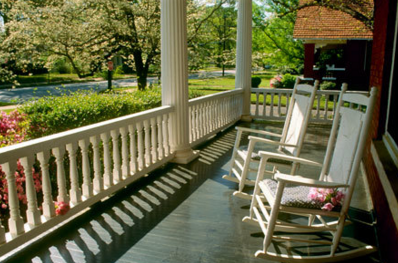 By KATHY BOHANNON, Special to The Weekly
In a recent move, I came across all of the "treasures" I saved for my two kids. There were these two porcelain dolls. Not the kind my mom's friend had all over her house, just one boy and one girl, saved for the day my kids would have their own home so they could enjoy them. 
Guess who doesn't want their very own porcelain dolls? Yeah. And funny thing is, I didn't want them either. The grandLittles did, and as their mom cautioned them to be very careful with them, I was happy they would enjoy having them. 
But what about the family china cabinet? Well, there's a story here. 
My mom had this Duncan Phyfe china cabinet (probably a replica, who knows?) my entire life. As a child, I'd open up the big doors in the bottom and play with some awesome plastic umbrellas, tiny baby booties and strollers. They were all cake decorations, but all I knew was I could sit for hours and play baby shower with them. 
At some point (after having four teenagers in the house) the upper glass doors had broken panes and their wood frames had splintered. No idea how that happened, but one time I threw a Tonka dump truck at my brother, and later in life he threw a wooden dog brush at me. I quickly dodged the dog brush, but our aquarium didn't. That thing went flying, water went flowing, and he and I attempted to save the day by scooping up fish and putting them in the bathtub. It was that day we learned that fish need heat and air. 
Anyway, mom had one of us teenagers put the china cabinet in the carport. I expect she was tired of looking at it sitting there all sad and ruined. The departure of the cabinet coincided with my soon-to-be mother in law visiting my mom. 
Josie asked mom about it, and offered to refinish it. Mom told her to enjoy it, and whatever she wanted to do was fine. 
Today I'm sitting beside this china cabinet that my mother owned, the one I played in as a child, and the one that later became a treasure of my mother-in-law before she gave it back to me. 
I don't know of many gifts I've received that mean as much as this one. 
My kids don't need a china cabinet, and I understand that completely. It's a relic, an old outdated piece that really just takes up space. The days of displaying "fine china" are lost; at least on my crew, and to be honest I just keep my favorite pieces in it. The actual china comes out at Thanksgiving and Christmas, but also when I'm feeling down or depressed. Using a piece of pink depression glass or a china place setting is just the thing to perk up my day. 
Trends come and go, so I'm thinking sometime in the near future the whole art of displaying one's fine china might become a "thing" again. If that happens, I'm hoping one of the grandlittles will want this piece of history linked by two great grandmothers and the grandma they knew well. 
Even if it gets sold or donated one day, the history has been imprinted, at least in the hearts of the previous owners. For now, I'll just enjoy the memories of it and the china I keep inside of it. 
It's a treasure. 
Kathy Bohannon is a freelance writer, Christian humorist and inspirational speaker. She can be reached at [email protected]