Front Porch Stories: Little Grown Ups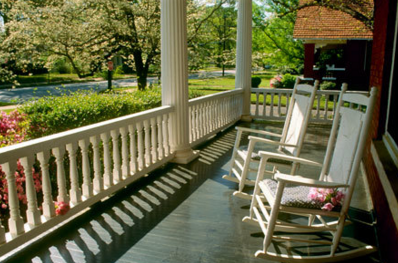 By KATHY BOHANNON, Special to The Weekly
She comes in with dangling earrings, a pretty dress and braids in her hair. She is stunning whether she is dressed up fancy or not, and surely she doesn't know how those bright blue eyes, blonde hair and perfectly dainty features just melt our hearts. 
She's a grandLittle, third in the lineup of five, and she turned ten in February. She shadows number two, the already-eleven-year old and she towers over number four, who wants to be just like her. 
I remember being "little" and too young to do things grownups get to do. I couldn't wait to grow up, so I understand number two, three and four's eagerness to be grown girls. The boys are still very much rough and tumble, and I love that. And I totally get it that these girls don't want "kid" menus at the restaurant. I understand they are far too mature (in their minds) for kid cups. And even though I probably did the same, it's hard to watch them rush their childhoods away. 
I began working at the age of 14. My issues at home pretty much threw me into acting grown in every possible scenario. As a result, the last 50 years have been spent growing up fast and being grown. 
I think today's term is "adulting." Of course, as a grown woman with grandkids, I'm expected to "adult." And as hard as it was to be a teenager, this whole "adult" thing is definitely not for the weak. There are mortgages, car expenses, jobs and so many more things we must do to be responsible adults. And while we reap the benefits of being grown, it's not always what it's cracked up to be. I so wish the kids knew to cherish their childhoods while it lasts. There will be plenty of time for high heels, makeup and all the trimmings, actually decades of time. But childhood is barely 16 years. 
I read today that for most people, the brain isn't fully developed until the age of 25. This fun fact made me even more concerned for young drivers.
One of our Littles will be turning 16 in just over two years. He is the most cautious one of the bunch, something I feel is a blessing from God to this grandma who can't imagine any of these kids being out on the road. But by the same token, I was driving before I was 16, windows down, rock music up, hair flying in my face. They were my glory days and I wouldn't have missed them for the world. It's a rite of passage, and while I will be holding my breath for at least a year or two after he starts driving, he deserves to experience the same. I'll have to be okay with that, but only when the time comes. I won't borrow those worries of tomorrow. 
The ten-year-old and her little sis just came in for a visit. She's all decked out in her finery, too dressy to play outside. Just as I was lamenting a flittering childhood, she asked if she could watch T.V. "Of course," I replied. 
Moments later I heard cartoon voices coming from the living room. 
There is hope after all. 
Kathy Bohannon is a freelance writer and Christian humorist. She can be reached at [email protected]