The Front Porch: Making do with what you have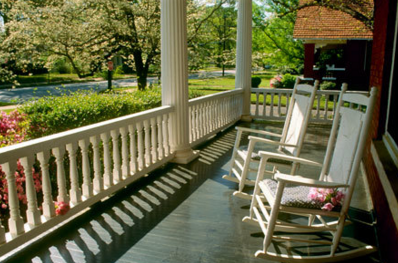 By KATHY BOHANNON, Special to The Shopper
I was honored to speak with a group of "older" folks recently. It was a birthday gathering, which led me to share things they might recall from the 1950s. 
While my focus at the speaking engagement was on social and pop culture, there were many changes in the post-World War II life, which became vastly different with the introduction of credit cards, the suburbs, the Civil Rights Movement and well, even Elvis Presley. 
My parents began our family in the late 1940s, I'm thankful to have had the experience as a freelance writer that I knew how to interview them in their late years. I have a CD with mom and dad answering questions I presented, each being answered with smiles as they recounted their lives as children, teens, then a married couple.
Having both lived during the Depression, mom and dad recalled many instances of having to make do with what they had. Living in desperate times must have had a huge impact on them both, but dad, especially, was determined to do all he could to avoid such despair again. 
He was always self-employed, and made huge business deals with the intention of setting his children up with a strong financial legacy. He worked well into his 80s before his death in 2011. Though he tried, his plans for the family business never came to fruition. 
My children are grown with kids of their own. Though I grew up with the thoughts that I would never have to work for anyone, I have worked since the age of 14. It was a good thing, though I do regret working when my children were growing up. I learned life lessons that couldn't have been taught otherwise. I learned to stretch what money we had, save up for memorable vacations with the kids and learn self-discipline as an employee.
Today, our remodeled, quaint home suits us well. I love my second-hand car, our furniture serves fine though the majority of it is from thrift stores, and I have a generous supply of crafting materials that easily fulfill my creative side. 
The material things we collect just deteriorate and get left behind. My earthly dad wanted to give us everything he could, but my husband and I live a very average life, having worked for whatever we have. I'm thankful I didn't have the "silver spoon" and instead, earned what we needed.
Jesus didn't have material wealth. He didn't have a roof over His head. He was offered a kingship over the land, but His purpose was not to reign from a fleeting, earthly throne. He came to tell the people they could have eternal life and a perfect existence for eternity. 
So many "things" He didn't have, but what He did have – and continues to offer to all of us – is salvation and eternal life when we accept Him. His gifts are not in danger of running short. They aren't limited, they aren't going to break, or gather dust and mold. His gifts are perfect and as our true Father, He promises that He is the way, the truth and the life. (John 14:6).  
Our Heavenly Father wants to give us everything. We don't have to work to earn it. We only have to accept it. John 3:16 tells us how: "For God so loved the world, that He gave His only Son, that whosoever believes in Him shall not perish but have everlasting life." And to think, it's free for whomever wants it.
Kathy is a Christian comedian and inspirational speaker. She can be contacted at [email protected]