Front Porch Stories: Road trip to remember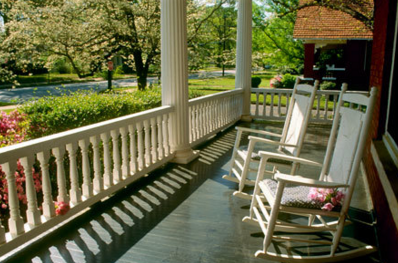 By KATHY BOHANNON, Special to The Shopper
My husband Ninja Man and I went on a short trip a week or so ago. We loaded the car with a suitcase, snacks and our two pups and headed up to Cleveland, Tennessee for the Gerald Wolfe Gospel Music Hymn Sing held at Lee University.
Traffic on the perimeter was, as expected, awful. There was a steady flow of awful until we were well out of the suburbs of Atlanta. I had to laugh when Ninja Man told me the perimeter would take us "around" Atlanta. Yes it would, I told him, if this were forty years ago. Atlanta has spread well beyond the perimeter that we knew when we were teens. About four hours later, we arrived at the pet friendly hotel, met up with friends from Newnan and headed out for dinner.
The music we heard that night was amazing. Hearing and singing the old hymns took me back to my spiritual roots at Red Oak First Baptist Church near my childhood home in College Park, Ga.
Those days, so far behind me now, came to life as Gerald Wolfe introduced hymn after hymn. It was like a hug to my heart as I was taken back to memories of my mom in the choir loft, wearing a burgundy choir robe, looking like an angel. Mom sang hymns not only with her fellow choir members, but also every single day in our home. I enjoyed hearing her sweet voice almost as much as she enjoyed singing. Whenever mom spent time at her organ, I knew she was learning whatever upcoming Cantata was on the calendar.
The chapel of Lee University was ideal for the Gerald Wolfe event. Though I don't know much about things like acoustics, the music was perfect to my ears and even better, to my senses. It was especially moving when Gerald called on a group of young college students in the congregation to sing, giving precious young voices to some ages-old hymns. It was one of my favorite things to witness that night.
In Touch Ministries was there to film the event, and I'm already eager to receive our copy of the DVD so we can enjoy it over and over again. My husband and I have been attending churches for many years where contemporary Christian music is played, and though we do enjoy the contemporary lyrics and tunes, I look forward to hearing again the old gospel songs we sang that night.
The next morning, we went to breakfast with our friends, still basking in the wonder of the previous evening. We were thankful to have been able to go, especially knowing now that I would have missed out on all those heart hugs the old songs gave to me. We had great weather, enjoyed the event and being with friends we love made the whole trip just right.
Ninja Man and I agreed to take the roads less traveled to return home. We didn't see the first traffic jam, but we did see cows, farms, small towns and roads that curved up and down hills. Taking those back roads just seemed to tie a big beautiful bow on the whole package that began as a little two-day trip. It was nice to get away, and even better to have the heart hugs from those old gospel songs. I think it's time to get out my hymnal and pick up some of mom's favorite tunes to sing here at home.
•••••••••••••••••••••••••••••
Kathy Bohannon is a speaker, wife, mom and avid crafter. She can be reached at [email protected].