Master Gardener Spring Plant Sale set for Saturday, April 10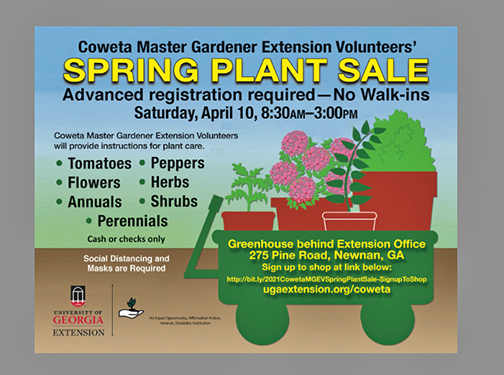 From Special Reports
Spring is almost here, and that means it's time for the Coweta County Master Gardener Extension Volunteers Spring Plant Sale on Saturday, April 10.
Folks attending will have to sign up to shop this year through Sign-up Genius at https://bit.ly/2021CowetaMGEVSpringPlantSale-SignupToShop.
No walk-ins will be permitted at the sale. Any individual not signed up in advance will have to remain in their vehicle. Everyone must wear a mask (even if having been vaccinated) and you will have only 30 minutes to shop, starting at your assigned time slot.
Sale hours are 8:30 a.m. until 3 p.m. on Saturday, April 10, at the Coweta County Extension Greenhouse, located behind the UGA Extension-Coweta County gate entrance  at 275 Pine Road in Newnan.
All plants for sale have been propagated or grown by MGEVs. Think about which places you need perennials, what vegetables or herbs you want to grow or what annuals you will be planting to add beautiful color to your pots or flowerbeds; use your shopping time wisely! Don't forget to bring cardboard boxes to carry home your plants, we'll have some on hand, but plant sale veterans always know to bring their own boxes.
Thank you so much for supporting the Coweta County Master Gardener Extension Volunteers and please be patient with other customers and our MGEV volunteers. Although COVID-19 has changed our sale process and your shopping process, we are delighted to serve you and help you find the right plant for your space. Happy Spring and Happy Shopping!
The sale will take place rain or shine so please plan accordingly. Please have your car prepared to have plants put in back quickly so you complete your shopping experience within your time slot.
Funds from the MGEV plant sale support UGA Extension-Coweta County community education programs, fund agriculture scholarships, and the Coweta 4-H.
For more information about the sale and inventory list please contact UGA Extension-Coweta County at 770.254.2620 or visit http://ugaextension.org/coweta. You can also find the MGEVs on Facebook, https://www.facebook.com/CowetaCountyMasterGardenerExtensionVolunteers.
For more information about spring planting and other gardening tips, please visit the University of Georgia Extension Service publication page: http://extension.uga.edu/publications.html.