Mr. Personality: Christy's Cafe, Newnan's Best-Kept Secret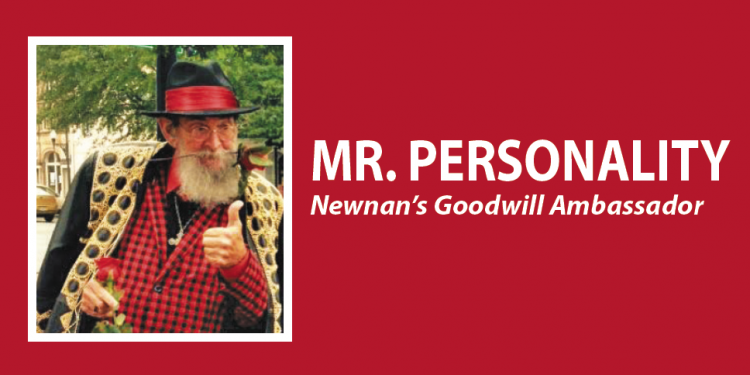 By Mr. Personality, Special to The Paper
November, the month for Thanksgiving and family, for sharing our fall harvest and simply being grateful for what we have.
I am truly very grateful to be living in an amazing town overflowing with love and kindness.
The treasure of the month for the courthouse square, the best kept secret in all of Georgia, is Christy's Café, located on 27 Jackson St. Each Thanksgiving, Christy invites everyone to a tasty Thanksgiving dinner free of charge. Anyone who would like to donate or help can call 770-328-8498 for more details.
You will see Mr. Personality there, yes indeed.
You may have noticed that I am sporting an orange beard thanks to the skills and generosity of B. Young Beauty Studio & Spa. Shannon, the color specialist, did an outstanding job and I am loving the look. I have received many positive comments already.
B. Young Studio & Spa is located at 5 Jackson St. Phone 770-683-0704.  Thank you B. Young and Shannon for adding color to my face and my life, good job.
I now have three new gigs on Temple Avenue – Heavy's Fish, Ribs, Wings is now open on 114 Temple  Avenue, 770-683- 4103. And right across the street is RTR Car Lot: buy here, pay here for low payments. For more details call David. RTR is located at 107 Temple Avenue.
My third gig is slightly off Temple, Planet X Motorsports has high quality Power Sports and ATVs for all ages. Call 404-456-0619 for more details. They are located at 6 Ellis Street.
Sunday's Oct. 20th Pop-up Makers Day was indeed very interesting and drew in a large crowd with many new fresh vendors such as Melissa Johnson with her black print Ghostie and cogs.  I see someone with something new each time, I truly look forward to the next one.
I am indeed loving the cooler weather and I hope it takes a while before winter itself sets in.
Thanksgiving Day is indeed my most favorite holiday with all its sights and smells of the yearly feast being prepared while family and friends converse in the background, which should remind us just how much we have to be thankful for.
Red Letter Merchant is fast becoming very popular with people of all ages due to the vintage t-shirts and other cool items. The store even has its very own art gallery. This is a place you simply must experience for yourself.
You can feel the positive energy and vibrations that are permanating the entire store as you enter. Red Letter Merchant is located at 7 West Washington Street, phone number 707-755- 7142, tell 'em you saw it in "The Paper."
Now that I am well aware that I am on my second half of my life's journey, I intend to live it to the very fullest through my God-given spiritual love letter ministry.
My spiritual journey can be summed up as follows: I am that I am just as the world is as the world is; I went in search of myself and I found God; I sought forgiveness and I found myself; I sought heaven's spiritual realm and I found myself in God.
You may write to me, Mr. Personality:
Spiritual Love Letters Ministry
c/0 The Paper
PO Box 757
Newnan, GA 30264
Until next time, love, peace and respect.