Old-Fashioned Christmas Candy now in-stock at Arnall Grocery Company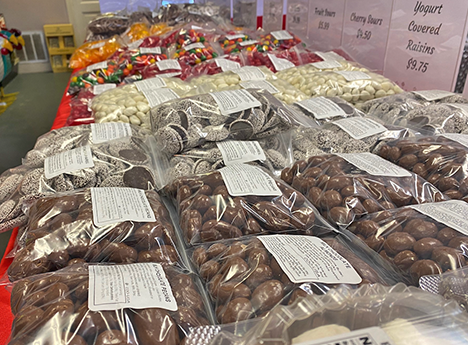 It's that time of year again here in Coweta County as the holidays approach quickly.
And leave it to Arnall Grocery Company to get the community in a tizzy over candy – "Old-Fashioned Christmas Candy, that is."
The annual event has just started this week at Arnall Grocery as folks can relive their childhood days with all of the holiday candies that are in stock. The best part is that the candy is available for purchase Thanksgiving weekend.
Here are some of the candy that is now in-stock: Baby Ribbon, Butterscotch, Caramel Tips, Cherry Slices, Chocolate Cream Drops, Chocolate Double-Dipped Peanuts, Jelly Beans, Chocolate Pretzels, Chocolate Stars, Frosted Pretzels, Fruit Sours, Georgia Pecans, Orange Slices, Peanut Butter Bars, Peanut Clusters, Red Band Peppermint Sticks, Circus Peanuts, Vanilla Squares and more!
And if you need more photos, just click on the LINK   for our Facebook page.
Arnall Grocery Company is located at 32 East Washington Street, just two blocks east of the downtown Newnan Square. For more info, call 770-253-4556 or visit arnallgrocery.com. Hours are Monday-Friday, 8 a.m.-5:30 p.m. and Saturday, 8 a.m.-2 p.m.