The Front Porch: My 'Planned' Garden is a work in progress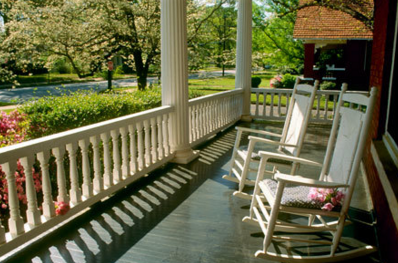 By KATHY BOHANNON, Special to The Shopper
I planned to have a garden this year. "Planned" is the key word here, because there is no such thing as a hint of a garden happening on even a smidge of our six acres.
Having a garden is important to me, mainly because of all that 2020 blessed us with, including the concerns of actually obtaining food in general.
I walked an area of the backyard and decided on a spot that was just  perfect where our daughter's chickens used to live. The fertilized ground would certainly be the premiere place to plant all the things.
Sadly, from a gardening aspect, I'm not outdoorsy. If I see a snake (yes, we have a "good" snake that lives on the property, but I do not want to "SEE" said snake) but if I do actually see it, I will avoid the area for at a year minimum. I'm certain that he is lying in wait to send a hiss or two my way, or to throw himself into the air and sink his teeth into whatever body part he lands on. I am sure I'd just go right ahead and have my heart attack and die on the spot. I know most of these certainties because I did see the "good" snake two years ago near our fence and I still don't walk "over there."
I have snake boots. I wear my snake boots on our back acreage, where ticks rule the planet. There is no such thing as tick boots, but we have some essential oils that ticks hate with a passion, so that keeps them at bay for the occasional walkabout. I must say my snake boots are pretty awesome, and once I'm in them, I'm committed. There may be no danger of snakes in the grocery store, but those boots take a lot out of me to put on and they ain't coming off for a grocery run.
Besides Mr. Slithers, there are yard monsters such as black widows, scorpions and the rumored bear or wild hog that might desire to snoop near our one-of-these-days garden, and I am positively sure they would choose to do this while I am trying to do something responsible like harvest for the winter.
Still, I was determined. Ninja Man went out and made a raised bed out of whatever we had lying around. It's quite a nice raised bed; has dirt in it and everything. And by "everything," I mean whatever was burned in the fire pit over the last month or so. A quick Google search proved that ash is good for the garden, but only so much, and we needed to do a soil test before investing in the plants.
So far, the construction of a haphazard raised bed, Google search for ash in the garden and a "plan" to get the soil tested is as far as we've gotten. I'm already seeing flourishing gardens on social media, so I know we missed the mark this season.
Once again, to obtain our seasonal veggies, I'll depend on the grocery store or the produce stand down the road. And if I'm shopping in snake boots, all the better. As momma always said, "I'd rather be safe than sorry."
••••••••••••••••••••••••
Kathy Bohannon is a freelance writer living in Newnan with her husband, Ninja Man. An avid crafter, Kathy teaches at Kathy Bohannon Creatively Blessed on Facebook and YouTube. Kathy can be reached at [email protected]