The Weekly Kitchen: Nutty Crackers – an easy, tasty treat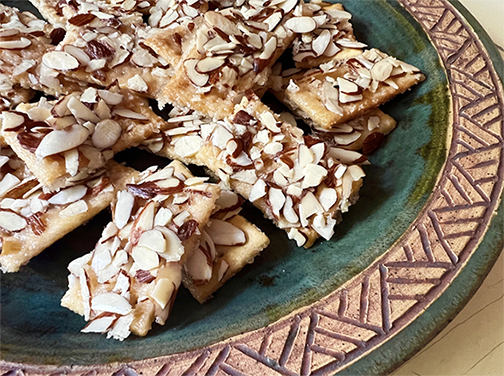 By ANGELA McRAE, Special to The Weekly
Years ago, I was assigned to interview a local woman who had written a book about depression. Frankly, I wasn't looking forward to it. What could be drearier than talking to some sad person, right?
Imagine my surprise when the beautiful Martha Maughon greeted me with a smile on her face and a friend by her side. An afternoon of delightful conversation ensued as we talked about her helpful book, Why Am I Crying? (This was when I first learned that depression isn't always visible on the outside, and I was young and had a lot to learn about life, so please give me some grace here.)
Aside from all that I learned that memorable afternoon, I also remember how Martha and her lovely friend were raving over some "crazy" new recipe they had just discovered. Basically, you covered saltines with melted butter and brown sugar, baked them, then topped them with chocolate chips and allowed the chocolate to melt before covering them with pecans. The result was a toffee-like confection that became quite the rage for a while, and I was happy to rediscover that old faithful recipe a few years ago.
Martha is in heaven now, and I've never forgotten how she helped educate others about depression—and how she educated me about making cookies with saltines!
When I was going through one of my antique-store recipe boxes the other day, I found a handwritten cracker recipe that sounded like a kissing cousin of the one Martha made. The anonymous scribe titled her recipe "Nutty Crax," which sounds kind of like an illicit drug, so let's just call them "Nutty Crackers" instead.
Surprisingly, these easy crackers turned out so delicious that I enjoyed them every bit as much as the toffee crackers. Since I'm starting to think about which treats I want to make for the holidays this year, I quickly realized these yummy crackers should be included. They're simple to make, they require only a few ingredients, and they come in small portions that are perfect for sharing on cookies plates or in baskets. I hope you'll give them a try!
Nutty Crackers
42 Club Crackers
1 stick butter
1/2 cup granulated sugar
1 teaspoon vanilla
1 cup slivered almonds
Preheat oven to 350 degrees. Line a 15 x 10 x 1-inch baking pan with aluminum foil. Arrange crackers in rows on pan.
In a small saucepan over medium heat, melt butter, then add the sugar and bring to a boil. Stir mixture constantly for 2 minutes. Remove pan from heat, immediately add vanilla, and pour the still-hot mixture evenly over the crackers. Sprinkle sliced almonds on top (and I patted them down lightly to help them adhere to the crackers). Bake for 10-12 minutes, remove pan from oven, and use a knife to slightly separate the crackers before they set. Let cool and enjoy! (You probably won't have many leftovers, but if you do, store them in an airtight container.)