Coweta Schools modify COVID-19 Quarantine Procedures for students, staff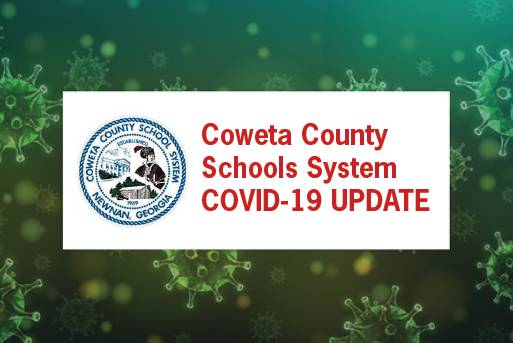 From Coweta County Schools Press Release
Following January 6 guidance from the Georgia Governor's Office and the Georgia Department of Public Health, The Coweta County School System has changed its current COVID-19 protocols to modify quarantine procedures for all students and staff during the regular school day.
The new procedures allow students or staff who have been identified as a close contact to someone diagnosed with COVID-19, and who meet the criteria for quarantine, but who show no symptoms, to attend school during their quarantine period.  The change also allows quarantined students or staff to stay at home during their quarantine period, if they wish.
If they attend school classes while asymptomatic, the Georgia Department of Public Health is requiring quarantined individuals who show no symptoms to wear a mask for 10 days following the date of last exposure, monitor for symptoms, and follow other DPH requirements.  Under the state guidance, students may attend class under modified quarantine, but not extracurricular activities for the period of their quarantine.  The option is allowed regardless of vaccination status. 
This change in procedure is for close-contact quarantines only,  and does not apply to individuals who have tested positive for COVID-19 or are presumed to be positive.  It also does not apply to any individual who shows symptoms of COVID-19.
"In short, if students or employees test positive for COVID, or if they show symptoms of illness, they should stay home.  If they are close contacts, but show no symptoms of illness, they may come to school," said the letter sent to all parents and employees on Friday.
"Individuals who have been identified as a close contact may also, alternately, opt to remain home from school during their quarantine period.  This change allows for students, their families, and employees, to make the choice to attend school if they are not symptomatic."
The Coweta County School System, in consultation with the Georgia Department of Health, has maintained a set of COVID-19 protocols and procedures throughout the pandemic.  The goal, at all times, has been to maintain health and school safety,  while also prioritizing in-person instruction for students whenever possible, and in the least restrictive manner possible.
All other elements of the school system's COVID safety precautions remain in place after Friday's change, including school system participation in close-contact tracing, notification of potential close contacts, tracking and reporting of school COVID case information, reporting and tiered interventions if schools show evidence of increasing COVID case rates, encouraging the use of face masks and other individual COVID protections, school cleaning and hygiene measures, and other health and reporting measures.  The school system also continues to require that students and staff monitor their health, report positive test results, and remain home under all circumstances if they show symptoms of illness or have been advised for isolation.
"Absences due to precautionary quarantining of students and staff impose significant impacts to our schools and our educational mission," said the school system's letter.  "Quarantining of asymptomatic individuals deprives otherwise healthy students of in-person daily instruction, and frequently threatens our ability to provide for daily operations of our schools and school system."
"Our school system has opted for modified quarantine, as allowed by the state, to give families and employees greater choice in these matters and to preserve our schools' ability to ensure continued in-person instruction."