Front Porch Stories: Six Little Acres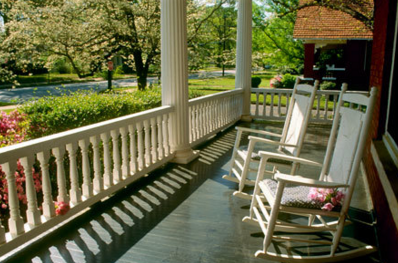 By KATHY BOHANNON, Special to The Shopper
We have a name for our home and property. It's called Six Little Acres. It has a Facebook page and a blog. It's seriously imperfect, but just right for Ninja Man and me.
The home is not only refurbished and repurposed in pretty much every way one could think of, it's also somewhat of a one-bedroom.
We have had several houses over the years, all traditional three bed / two bath versions. In Savannah, the kids grew up and moved out, leaving just Ninja Man and me. Eventually I sat down and did the math, figuring what we were paying in mortgage, insurance and heating and air. The numbers just weren't reasonable for us to keep two of those three rooms for guests, so we turned one into a crafting studio for me. The same thing happened with the dining room, and it became a sewing room. Still, we kept one of the bedrooms pristine with the door closed, and had visitors maybe three times each year.
When we were planning to move back to Newnan, we were hoping to build a barndominum, which is a barn with all the comforts of home inside. While researching, I found videos of very small apartments in Japan that feature movable walls. The walls would slide over to make the kitchen larger, slide back to make the living room / bedroom space. Though the homes were far too small for what we were looking for, I was intrigued and began researching ways to make movable wall panels for a barndominium.
Fast forward to the move; we found six acres in West Coweta that would be perfect for what we wanted. Soon after the purchase of the land, we discovered that the county wouldn't allow such a thing as the barndominium. It baffled me since there are homes built in aircraft hangars here in the county, but we were here to assist family during the catastrophic illness of a grandLittle, and I had no energy to pursue it further.
The land we purchased came with a double wide mobile home that needed a complete tear down, but that "complete tear down" was determined after much money was spent on refurbishing. We were planning to throw a little money at it and create a crafting cottage and then build in front, but with the money already invested, we decided to make it a home.
We had to follow all the rules set forth by the county to renovate a home. We had to meet inspections as if we were building a regular house. We added a large room on the back that we now fondly call the EBR, which stands for Emotional Baggage Room. It's apropos considering all the emotional baggage we carried during our grandLittle's illness.
The room is as transitional as it can be. It's a movie theater for the kids, it's a guest bedroom, a place to set up tables and host gatherings, and one corner is dedicated to my sewing.
Five years later, and things have calmed down. Our grandLitttle is in remission, the "house" is now a one-bedroom / huge studio / two full baths and the EBR.
Though we couldn't build like we wanted, we love it and it is home.
Yesterday we picked a harvest of blueberries. Last week, it was pears. Grapes, fig, blackberries, scuppernongs and muscadines will be ready soon, and we will enjoy the "fruits" of our labor.
••••••••••••••••••••••
Kathy Bohannon is a wife, mom and avid crafter. She can be reached at [email protected].