Mr. Personality: His latest adventures in Downtown Newnan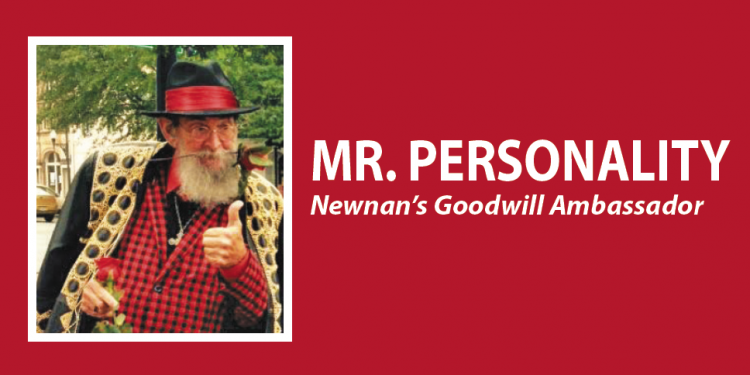 By MR. PERSONALITY, Special to The Paper
June, the month for Flag Day, Father's Day and the first day of summer.
I am so looking forward to summer as it is still colder inside my house than outside. It is a little tiresome now. I had hoped for warmer days before the super hot weather hits and I am still holding out for that.
The #NewnanStrong event seemed to have been a success as the town around the Courthouse Square had so much going on everywhere. There was a great turnout and I loved the witches dance put on by Southern Arc Dance. I can't wait to see it again on June 5th in the Wadsworth Auditorium in the Southern Arc Dance production of Hansel & Gretel.
I'm truly amazed at how the Courthouse Square is growing more each week it seems. I am truly sorry, but those places that have a staircase will not be seeing my face, I can no longer do stairs.
My awesome art has taken on a life of its own. I have turned my artwork into awesome notecards and I shall be placing them on the market soon all around the Courthouse Square.
I am selling them in sets of 10 and the proceeds are going into a fund for tornado victims. I am truly excited and my good friend Larissa Scott is lending her expertise in marketing. I am the artist and she is the brains behind this artist and this amazing project.
My life does indeed seem to be locked in on my spiritual journey that keeps me changing for the better day by day. I seem to be given the many tools I need in order to make the proper adjustments in my spiritual behavior.
Everything seems to be coming together and just simply falling into place. I am indeed very blessed and grateful for this amazing spiritual experience.
I am experiencing a growing interest in the stoic philosophy – think Marcus Aurelius and Seneca and Epictetus – to name a few that lived as stoics before the time of Jesus Christ.
I think that such a philosophy may indeed serve me well in my old age. Divine Spirit has placed such books in my past and down the road they shall be introduced to my Book of the Month section of my column.
This month's book is titled "1000 Dreams" by David Fontana. Should you be interested in what your dreams may mean, this may well be the book for you.
There is indeed much wisdom locked in your unconscious mind in which you may have access through such avenues as your dreams. I myself prefer to use the method of Direct Association recommended by Carl Jung  as opposed to the Free Association method of Sigmund Freud.
 You may want to keep in mind that symbols may change their meaning in the dream state. You may want to avoid overthinking the meaning of any dream. Freud has been quoted as saying "sometimes a cigar is just a cigar."
I have often used dreams to help me find answers simply by concentrating on the question in mind for an hour before sleep. It truly works more often than not.
Until next time. Peace, love and respect.
Remember you can write me at:
Mr. Personality / Spiritual Love Letters Ministry
c/o  The Paper, PO Box 757, Newnan, GA 30264