Mr. Personality: February best-kept secrets around downtown Newnan Square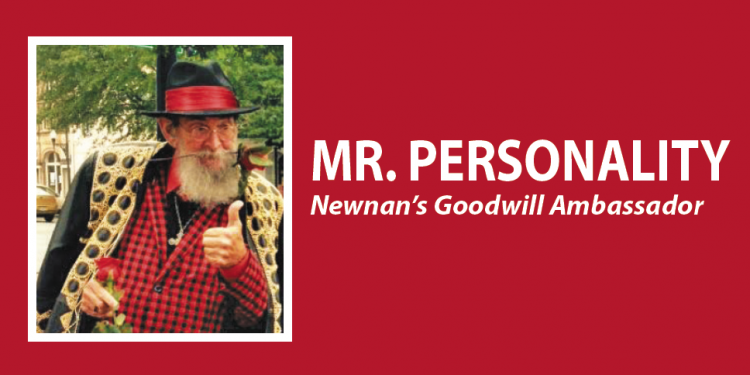 By Mr. Personality, Special to The Paper
February, the month of extreme cold, rain and Valentine's Day.
This month I have two treasures of the month for the Courthouse Square, the best kept secret in all of Georgia. These two go hand-in-hand for Valentine's Day. One is Murphy Florist, located at 6 Lagrange Street. The phone number 770-253-5424. Call your order in early to avoid the rush.
The second treasure of the month is Let Them Eat Toffee." Located at 18 N. Court Square, the phone number is 770-683-0137. This is an excellent opportunity to shop local as both places are near the courthouse square. Be sure to tell him you read about it in The Paper.
Speaking of The Paper, John Winters moved his office to 18 Jackson Street. Rumor has it that John moved to be closer to Christy's Café, a smart move indeed.
Starting the first of February, the Carnegie Library at 1 Lagrange Street will be open every Saturday from 9 a.m. to noon. Let's fill that place up with your entire family, what fun! Call 770-683-1347 for more information.
I read The View from the Loft by Jim Coleman in The Paper and he has given me an idea. He said that he might slap the next person that shows him a sugar cookie. I do not care for sugar cookies except the ones that look like me, which you can order from Bolton's Bakery. They are located at 13 East Broad Street. They also would make a great Valentine's gift. Call 678-673-6680 and avoid the rush
Excuse me, I digress. I do like fruitcake, all kinds of fruitcake in every size, shape and flavors with any kind of nuts or fruit. So my brainstorm is anyone that has received an unwanted fruitcake for Christmas and the last 15 years, feel free to drop it off at Red Letter Merchant. Tell Tony it is for Mr. Personality and he will see that I get it. Red Letter Merchant is located at 7 West Washington Street. Phone number 770-755-7142. And remember there is no such thing as too many fruitcakes.
This amazing town of Newnan is indeed full of daily surprises as for the past seven years I'm extremely happy 24/7 as I am truly surrounded by such sparkling personalities that are so full of joy and overflowing with goodwill and spiritual love.
My God-given spiritual love letters ministry now has a total of 349 kindred spirits. Each one is truly special and precious to my heart.
I bought a movie about two weeks ago that I cannot stop watching. The title is "God's Not Dead" with Kevin Sorbo and Shane Harper. I watched three nights in a row and again for the fourth time today.
If you have not seen it, you may want to look it up. If you have seen it you might want to watch it again. It truly spoke to my heart.
My heart was broken by the news of my dear friend Michael J Owens having died of a heart attack on December 14, 2019. Michael J Owens was my dear friend, kindred spirit and all around nice guy. My heart and prayers go out to his family. I miss him greatly.
Love, peace and respect,
Mr. Personality