The Interview: Alex and Angela McRae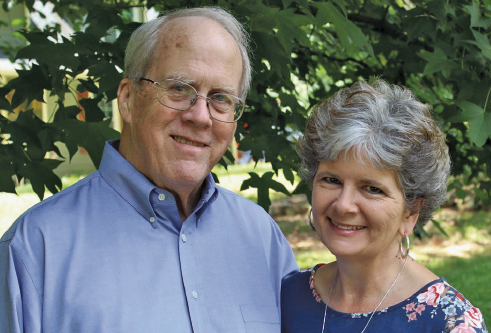 This month's Interview is with arguably the most interesting couple in Coweta County. They are writers, journalists, tea room aficionados, and authors extraordinaires. Hang out with the McRaes for a few minutes and enjoy our Q&A.
Briefly describe yourself and what you do/did.
Alex: My main jobs now are being an awesome husband to a wonderful wife, spoiling my four grandchildren, writing a newspaper column for the Newnan Times-Herald, writing magazine feature stories, trying to write bad novels, and lately, ghostwriting books. I just started on my seventh.
Angela: I edit fiction and nonfiction books for clients in the US and abroad, and I also write cozy mysteries. My first, Emeralds and Envy, debuted in April.
Best piece of business advice you've received.

Alex: "You'd probably be happier doing something else."
Angela: "If you're the smartest person in the room, you're in the wrong room."
If I had it to do over …
Alex: I'd add automotive repair to my skill set.
Angela: I'd have taken business courses in college. And learned to sew.
You are going on an extended solo trip. What three albums and three books would you take?
Alex: Albums: The Chicago Transit Authority, James Taylor's One Man Dog, and Beethoven's Ninth Symphony, 'cause it has singing. Books: The Holy Bible, King James Version, The Power of Positive Thinking by Norman Vincent Peale, and anything by James Lee Burke.
Angela: I require vast amounts of peace and quiet, so I wouldn't take any albums. Books: The Zodhiates Hebrew-Greek Key Study Bible, Walking on Water: Reflections on Faith and Art by Madeleine L'Engle, and the biggest blank journal I could find.
Tell us one thing about yourself that few people know.
Alex: I played saxophone in Stevie Wonder's backup band.
Angela: I was once an aspiring midwife and attended eleven births, some in hospitals and some in homes.
You are hosting a dinner party for six. What five people, living or dead, would you invite and why.
Alex: Mark Twain, for his political observations; Nikola Tesla, to learn how he knew that AC electricity was better than DC; Marco Polo, to learn what it feels like to see, for the first time, people and things you had no idea existed; Albert Einstein, for him to explain how he could understand space and time but couldn't comb his hair; and Jesus—just to watch his reaction to the table chatter.
Angela: My mother, to find out what she's been up to in Heaven; Queen Elizabeth, because I'd like to share a cup of tea with her; the apostle Peter, because like me, he was a screwup that Jesus loved anyway and gave a second chance; C. S. Lewis, because I admire his brilliant thinking and writing; and my husband, because I'd want to compare notes with him after the party, as he picks up on lots of things that I don't.
Name an as yet unfulfilled dream.
Alex: Traveling and writing in other countries for a month—or a year.
Angela: Going back to Italy and spending a month writing in the countryside.
If you weren't doing what you are, you would be …
Alex: Learning how to fix cars.
Angela: Leading teatime tours to England.
Your go-to food. 
Alex: Combo—eggs any style, and Culver's frozen custard.
Angela: Greek yogurt topped with a fruity dry breakfast cereal.
Favorite movie(s).
Alex: Gladiator and The Pink Panther.
Angela: Sense and Sensibility and Gone With the Wind.
Dogs or cats? 
Alex: I go both ways.
Angela: Dogs.
Your favorite quote and why.
Alex: "Do the thing you fear and the death of fear is certain." (Ralph Waldo Emerson) This one convinced me that if I believed I was doing the right thing and being fair, I could live with the outcome of any decision.
Angela: "Lord, deliver me from the urge to open my mouth when I should shut it. Give me the wisdom to keep silence where silence is wise. Remind me that not everything needs to be said and that there are very few things that need to be said by me." (Elisabeth Elliot) I can always use this reminder not to run my mouth.
Name something that you are extremely glad you did or accomplished.
Alex: I didn't damage my two children beyond repair.
Angela: I'm glad I learned that midlife isn't too late to pursue new dreams or even a new career.
What advice would you give your younger self just starting out on your own?
Alex: Figure out what you really love before you get stuck doing something you can't do well or don't enjoy.
Angela: Don't worry about what other people are thinking about you, because they probably aren't.