The Interview – Lou Graner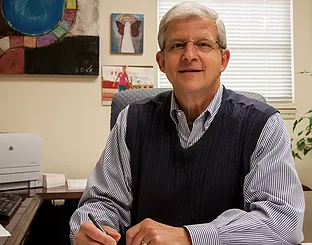 Briefly describe yourself and what you do/did. 
I am the Executive Director of the Coweta Samaritan Clinic.  My wife, Anne and I have lived in Newnan for 24 years and we have two grown daughters.
Best piece of business advice you've received.  
The Chairman of the Board at Scottish Rite Children's Medical Center (now CHOA) edited a letter I had drafted by changing all the "I's" to "We." I have never forgotten his point that our success in any organization or activity comes from working together as a team.  It is never just me, nor is it about me.
If I had it to do over … 
I would have taken more risks like pulling our young girls out of school for a year to travel throughout the United States.
You are going on an extended solo trip. What three albums and three books would you take? 
Dark Side of the Moon; Sgt. Pepper; and The Allman Brothers Band.
The Bible; 7 Habits of Highly Effective People; and The Freedom of Simplicity.
Tell us one thing about yourself that few people know.

I am an avid Cleveland Browns fan.
You are hosting a dinner party for six. What five people, living or dead, would you invite and why?
My wife Anne (she is my best friend), Duane Allman, David Gilmour, George Harrison and Neil Young (the music after dinner would be incredible)!
Name an as yet unfulfilled dream.

To know God more intimately.
If you weren't doing what you are, you would be … 
Spending more time outside in nature.
Your go-to food.  
Salad with field greens and lots of raw vegetables.
Favorite movies(s).

Crash; Dead Poets Society
Dogs or cats? 
Dogs
Your favorite quote and why?

Matthew 6:33 – But seek first his kingdom and his righteousness, and all these things will be given to you as well.  The passage reminds us not to worry about everything, but to instead to be faithful and trust in God (not that I do it so well).
Name something that you are extremely glad you did or accomplished.

Served our community through the Coweta Samaritan Clinic.
What advice would you give your younger self just starting out on their own?

Do not worry so much about what other people think.  I believe it was Abraham Maslow who said, "be independent of the good opinion of others."