Notes from Jackson Street: You never forget your first joint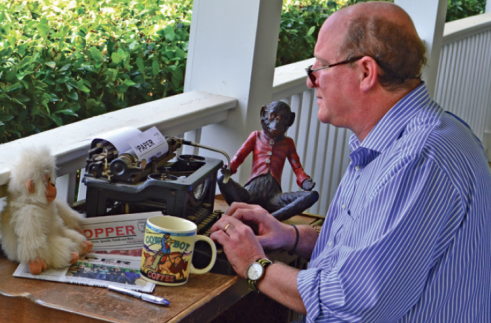 By JOHN A. WINTERS, Publisher
It's the smell that hits you when you first enter. And it's the smell you'll always remember. There is just nothing like it.
Over time, you'll start seeing familiar faces; others seeking that same craving. Habits may change, but you will always remember your first joint.
Mine is located in Tulsa, Okla., and every time we go back to visit the parents, it is the first food stop. Always. Except Mondays, when they were closed.
My dad first took me there when I was five or six, and for a while it was our Saturday morning ritual. You got a Tootsie Roll from the cashier when you left. I started taking my boys, the Sons of Thunder, there. They, just like I did at that age,  favor the stools at the counter.
You see, the stools – five on one end, six on the other – spin. Really, really well.  If you're not into that, there are five booths or seven or eight tables that seat either two or four.
The ketchup comes in glass bottles and it's the slowest ketchup in the world.  When I was young, one of the old-timers working the counter told me to squeeze the bottle. I did, he laughed and then I did too, although I was a little embarrassed. Same thing happened to one of the Sons of Thunder.
Same guy, same joke. Forty years apart.
It was a family business and the customers and employees remained the same. It was a constant. The only variable was we just aged. The owner died a few years ago, and it seems most of the other original team has gone.
Yet for nearly 60 years the place has held up pretty well. The booths were originally this rather odd green color, and the chairs are yellow and orange. Interesting mixture.
The new owners did it right. They didn't change the food, something new owners too often do and ruin everything. They did, however, change out the booths and chairs to a bright red covering.
The counters are pretty hard to describe. The Little Black Dress says they are "salmon" colored. Let's just say throw in some orange, yellow, a lot of wear and tear, a lot of grease and a lot of years, and you'll come up with something.
The new owners left those alone.
As I said, the faces are changing. But the food always remained constant. Sometimes I like constant things. You can have a hamburger, cheeseburger, weinerburger, fish or grilled cheese. They also have "bowl" specials on different days – butterbeans, navy beans or beef stew.
There's homemade chili and a few side dishes – cottage cheese, coleslaw and if you get the hamburger steak, which is what the LBD always gets, they give you two slices of white bread.
The pies are homemade, and my boys are serious into those. They're huge slices and you order them when you get your regular food order because you sure don't want someone else to get that last slice. They only make so many each day. The Sons favor coconut and chocolate.
They quit serving french fries. Some of the employees, including the head cook, were ex-military. They didn't take too kindly to the French bailing on us during the Second Iraqi War. So now they serve Freedom fries. With a capital "F."
The new owners kept that too.
On the day of my wedding, I took all the groomsmen to lunch there. Ordered what I've always ordered – three cheeseburgers, (okay they are thin like a smash burger) mayo only, onions fried in. Side of Freedom fries, and of course homemade root beer in a frosted mug.
We just got back from Tulsa. Brownie's was our first stop. As always. I had three cheeseburgers, Freedom fries and a frosted root beer. Some things should not change.
One of the things I enjoy writing for The Paper is "The Joints" column. I am finding lots of new joints to share with friends, family and readers. Check out our list on our website at https://www.wintersmedia.net/category/food/the-joints/.
Let me know about your favorite local joint. Would love to try it out.