The Film Fix: The Lion King review, plus Netflix, Prime and Hulu selects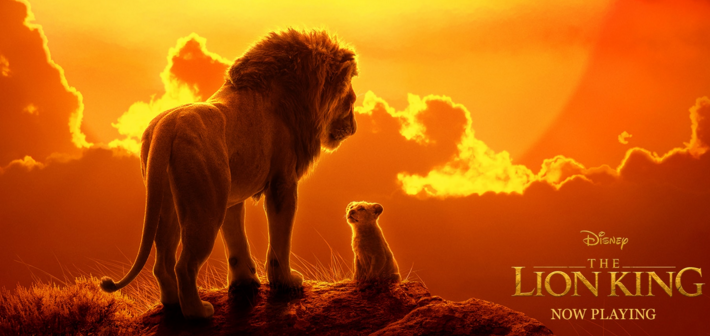 By Jonathan W. Hickman, The Film Fix
Below are reviews of both big-screen and streaming options fans will have this month. Review rating … A "Fix" is recommended with a rating between 6 and 10. A "No Fix" is not recommended with a rating between 1 to 5.
IN THEATERS
The Lion King (2019) – No Fix Rating 5/10
It's time to recognize the true reason for Disney's remake trend: greenbacks! Of course, this should come as no surprise. Walt Disney Pictures is a massive commercial enterprise, after all. And business has been good with the immense success of the Marvel Cinematic Universe, continued hits through its ground-breaking animation powerhouse Pixar, and the successful acquisition of Star Wars. But even though the coffers are overflowing, Disney executives decide to recycle instead of innovate.
And the latest remake takes one of their most revered hand-drawn animated properties and puts a realistic gloss on top of it. Call it Disney Nature becomes Disney Narrative, as "African Cats" morph convincingly into "The Lion King." But the more and more real things look, the more my mind kept thinking about the real circle of life—lions eat most everything, right?
Covering essentially the exact same ground as its venerable 1994 predecessor, this version even features some of the same voice talent, most notably that of the iconic James Earl Jones as Mufasa, the ill-fated leader of the pride. Donald Glover takes over voice duties from Matthew Broderick as the grown Simba, and Beyoncé voices Nala, stepping into the role previously held by Moira Kelly. While the names are note-worthy, nothing about these vocal changes adds much to the distinct personality of the characters.
In fact, the film hardly makes any unique mark at all until the appearance of Timon and Pumbaa voiced by Billy Eichner and Seth Rogen. It's hard to improve on what Nathan Lane did with Timon in the original, but Eichner and Rogen have a really "dude-bro" thing going here. The "Lion King" needed more of that modernization. The splashy effects alone just aren't enough.
Sadly, there will be a generation of children that may be first introduced to "The Lion King" with this new version, as families eschew older-style animated fare. And Disney in remaking its past might cause many for forget its storied history.
STREAMING SELECTS
Netflix
What to binge: GLOW: Season 3 (August 9) – Ruth "Zoya the Destroya" Wilder and the Gorgeous Ladies of Wrestling return for a season three of the 1980s set series. The action takes place in Las Vegas as the wrestlers learn how to cope with the business that puts their personal lives in peril. Gena Davis joins the cast as a casino director with designs on expanding their act.
What also to check out: Mindhunter: Season 2 (August 16) – Fans of the original series had to wait for its return well over a year (season one debuted in October 2017), but the dark, late 1970s, crime procedural about two FBI agents who employ innovative investigation techniques finally returns with another eight episodes. And director David Fincher ("Fight Club") is back to put his stamp on the show, as well.
Extra Credit: The Dark Crystal: Age of Resistance (August 30) – This follow-up to the 1982 Jim Henson and Frank Oz film "The Dark Crystal" is a ten-episode prequel series set in the magical world of Thra.
What movie to watch: No Country for Old Men (August 11) – This divisive Oscar-winner (2008's Best Picture) comes from the minds of Joel and Ethan Coen and is adapted from a novel by tough writer Cormac McCarthy. The story concerns Llewelyn Moss (Josh Brolin) on the run from maniac killer Anton Chigurh (Javier Bardem). Tommy Lee Jones plays a lawman also investigating, and Woody Harrelson takes on a man caught up in a criminal organization and has experienced Chigurh's villainy. This twisted crime epic is unique and brutal. Patiently wait for Kelly Macdonald's critical scene in which she and Bardem face off.
What to avoid: The Emoji Movie (August 8) – This animated feature might have sounded great on paper, but the result was one of the worst reviewed films of 2017, charting just 7 percent (rotten) on RottenTomatoes.com.
Amazon Prime
What to binge: Carnival Row (August 30) –  If you enjoyed "Good Omens," perhaps, this one will continue the fantasy vibe. And as Amazon struggles to find a breakout hit, looking to the eventual release of their splashy "Lord of the Rings" prequel series, "Carnival Row" has one "LOTR" veteran in Orlando Bloom. The story has Bloom and Cara Delevingne in a Victorian fantasy in which mythical immigrant creatures are forced to hide away.
What movie to watch: The Lincoln Lawyer (August 26) – With news of a possible series in development, it might be time to revisit Matthew McConaughey's 2011 legal thriller/drama. Part of what was dubbed the "McConaissance" back when the popular actor started getting major attention again, "The Lincoln Lawyer, based on the Michael Connelly novel, is about criminal defense attorney Mick Haller. We see Haller represent edgy clients and eventually take on one case involving a wealthy man (played by Ryan Phillippe), who might be guilty.
What to avoid: Sucker Punch (2019) – (August 31) – Even if you are one of the fanboys who excused what director Zack Snyder did to DC comics on the big screen (for the record, I thought two thirds of 2013's "Man of Steel" was very good), "Sucker Punch" is not worth your time. This CGI nightmare has a great cast, and there's possibly a good movie lurking underneath all the effects, but it's positively incoherent. The story has an institutionalized young girl retreating into her whimsical mind in hopes of finding a means of coping with her harsh reality.
HULU
What movie to watch: A Simple Favor (August 22) – This underrated comedy/thriller has Anna Kendrick and Blake Lively facing off as they vie fo the affections of Henry Golding. Murder is in the air, as Kendrick plays a single mother investigating the disappearance of Lively's fashionable businesswoman. Adapted by the novel by Darcey Bell, "A Simple Favor" is a guilty pleasure.
What also to check out: Hail, Satan (August 22) – This documentary isn't what you think it is. Filmmaker Penny Lane follows members of The Satanic Temple, as they challenge the placement of religious symbols on government land. Whether they actually worship satan is in question, but their secular goals are clear. This fun and informative film provides an interesting view of religious freedom in America.
Theatrical Teasers
Fast & Furious Presents: Hobbs & Shaw (in theaters now) – Finally embracing its comic book evolution, this "F&F" spinoff has Hobbs (Dwayne Johnson) and Shaw (Jason Statham) uniting to take down super bad guy Brixton (Idris Elba). "Deadpool 2" and "Atomic Blonde" director David Leitch is at the helm of this one, which is promising. The trailers look completely ridiculous. However, "Hobbs & Shaw" appears of be consistent with the off-the-rails approach that this series has been given with each box office triumph.
Art House Corner
The Art of Self-Defense – Fix Rating 8/10 (in theaters now) – "The Art of Self-Defense" is arguably a better film than the much lauded "Fight Club." While it's certainly not as hugely entertaining or epic in its sweep, this tiny, intimate film touches artfully on the same themes that distinguished "Fight Club," and, possibly, with more impact. I suspect that writer/director Riley Stearns had on his offbeat mind David Fincher's 1999 dazzling ode to eggshell virility when penning the script. And like "Fight Club," "The Art of Self-Defense" uses dark humor to expose the ever-present insanity that is bubbling underneath the calm, ordinary mainstream male.
The story has Casey (Jesse Eisenberg) surviving a brutal mugging only to seek confidence in Karate. But his sensei (Alessandro Nivola) might be hiding a dark secret in his dojo. While "The Art of Self-Defense" is not for everyone, fans of "Fight Club" will be enthused, and folks looking for something odd but still coherent will be beguiled.
••••••••••••
Jonathan W. Hickman is an entertainment attorney, filmmaker, college professor, and novelist. More about Jonathan can be found by visiting: filmproductionlaw.com.