The Shopper Kitchen: Strawberry Pie inspired by a Legend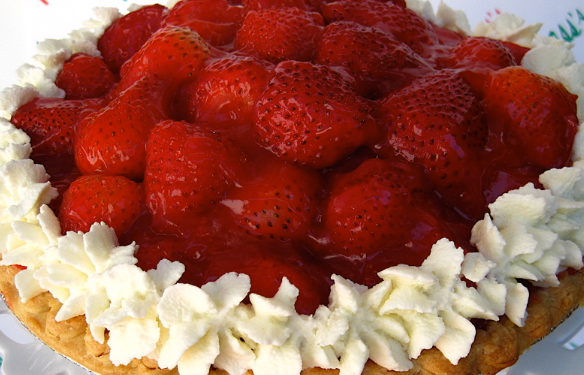 By Angela McRae, Special to The Shopper
Among my many odd hobbies, I like to research old department store recipes. I have fond memories of eating Rich's Coconut Cake back in the day, and I must have tried every supposedly authentic recipe for this cake out there (including the one with shortening in the icing). While some of the cakes are quite tasty, not one of them comes close to matching the real thing. As a friend of mine once said, "You can't compete with a memory."
I'll bet the folks in Allentown, Pennsylvania, feel the same way about the strawberry pie from Hess's department store. Never heard of it? Hess's was home of The Patio, its legendary restaurant, which was definitely not a white-tablecloth kind of place. In fact, the videos I've seen of it online remind me more of an old Piccadilly's.
Hess's Patio restaurant was known for many things, including its fabulous desserts. The restaurant's strawberry pies were so famous that even Liberace ordered them by the dozens as Christmas gifts for friends, paying to have them shipped with freezer packs.
As with the Rich's Coconut Cake, I found quite a few recipes for Hess's Strawberry Pie online. I wondered how authentic they were, and then I watched a PBS video that showed the actual thing. Good heavens, that pie was a monster—8 inches high and weighing 10 pounds!
I was determined to make a scaled-down version of the pie, and I am calling mine a Hess-inspired Strawberry Pie. I used the cooking technique from one Hess's Strawberry Pie recipe and the ingredients from Michael Lisicky's recipe at lostrecipesfound.com. Here's the pie recipe as I made it, and I hope this will be useful for all of you who've been out picking strawberries recently!
Hess-inspired Strawberry Pie
1-1/2 cups + 2 tablespoons sugar, divided use
1-1/2 cups water 
4 tablespoons corn starch 
1 (3-ounce) box strawberry Jell-O 
1-1/2 quarts fresh strawberries (the biggest ones you can find)
1 baked deep-dish pie crust 
1 pint heavy whipping cream 
In a medium saucepan, whisk together the 1-1/2 cups sugar, water and corn starch over medium-high heat until mixture thickens, about 5 minutes or as long as it takes to get a nice thick texture. Stir in package of strawberry Jell-O and mix well. Remove from heat for a few minutes, then chill mixture in refrigerator until cooled but not set.
While mixture chills, clean and hull strawberries. Use a sharp knife to remove the hulls with the tiniest cuts you can make. Fold strawberries into the gelatin mixture and toss gently with a rubber spatula until every strawberry is covered. Mound mixture into baked crust and pat it down with your hands as firmly as you can without crushing the berries. Refrigerate until set. When time to serve, pour whipping cream and the remaining 2 tablespoons of sugar into a chilled bowl and beat with electric mixer until thickened. Garnish pie with whipped cream as desired.