Trends & Trendsetters: Poplar Gift Shop, Tribal Chick, Sweet Pea's Boutique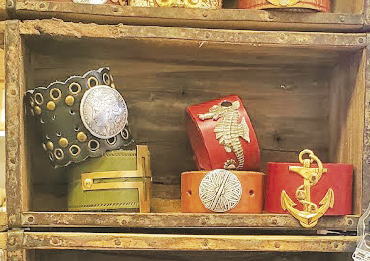 By Corby Carlin Winters, Public Relations and Marketing
Each month, we cover some of the hot trends from health and wellness, fashion and style, business or even tapping into your creative side.
There are so many new trends happening in social media, politics, business and fashion. Look for 2019 to be filled with many new ones while still holding on to those timeless trends.
Our local Piedmont Hospital offers more than just healthcare
If you have never popped into The Poplar Gift Shop inside Piedmont Hospital you are in for a treat. The Poplar Shop is always trending with awesome goodies.  Each month we put copies of The Paper there and every month I make sure to take a good spin through the store, just to see what is hip and happening. They have many wonderful things ranging from the latest trends in clothes to faux fur wraps, purses, jewelry, stuffed animals, inspirational books and even things like cool water bottles. Manager Deborah Duford and the staff take great care of their customers to find the right item.
Secure your purse with this new simple gadget
I drove over to visit the middle SON of Thunder at UWG not long ago and took a tour of Carrollton. I picked up a marvelous hat at Sweet Pea's Boutique. Proprietor Sidra McWhorter grew up in Newnan and sells just about everything a woman loves. One cool gadget was the Handbag Handcuff. I believe it makes for an awesome new trend and simply clips to your purse and then a shopping cart or something similar. I know one woman who had her purse stolen out of her cart. You can also use it while playing tennis and chain it to the fence. She also sells beautiful concealed carry weapon purses too by Hobo. I am sure they will be a timeless trend.
Some of the hottest trends you will see for fall
Fall Fashion is fabulous right now and hats, ponchos and dusters are all in. Tribal Chick in downtown Fayetteville has a great selection thanks to owner, designer and artist Devia Jamie Georgia and she is wonderful at helping style her customers. You will find unique and many one-of-a-kind accessories. Large cuffs can be found at her store. I have said before I adore Micheal Sebacher's cuffs and you can purchase those at Tribal Chicks or directly through Micheal Sebacher on Facebook. Valerie Dumas at Gillyweed has her own unique selection of her own handcrafted cuffs as well.
Over-the-knee boots can be found at Blume in Peachtree City and DSW in Newnan.  Another fun look for women of all ages are ponytail scarves you can find at Parlor 34. And remember what Sandra Bullock's character said in Blindside about fashion: "If you don't absolutely love it in the store then you won't wear it. The store is where you like it the best." Fashion is fun. Dress the way you like and embrace yourself and your image.
Timeless Trends are taking care of our ta tas
Each October we honor, celebrate and work to continue to raise the awareness of breast care.  Now is the time to get a mammogram and making sure you are doing monthly breast exams.. Find a doctor you trust and can talk to openly.  If something doesn't feel right instinctively or physically, go and get checked. Be your own best advocate.
The most important thing is to take care of YOU.  Stress, anxiety, lack of sleep and even lack of fun with girlfriends all impact our heath.
As a trained life coach and counselor, one of the most important phrases I can teach you is "just say no." If you say yes to everything you will wear yourself down to a thread.  Stand up for yourself and follow your intuition. Lastly, treasure and savor each moment of life. It is a gift and so are you.
••••••••••••••••
Corby Winters is known to many as a Power Shopper, the Little Black Dress and a life stylist. She's crazy about shoes, clothes, accessories, and of course leopard prints. She loves writing, speaking, ministering, life coaching and being with friends, Winters and the SONS of Thunder.