Coweta County Schools COVID-19 Cases continue to decrease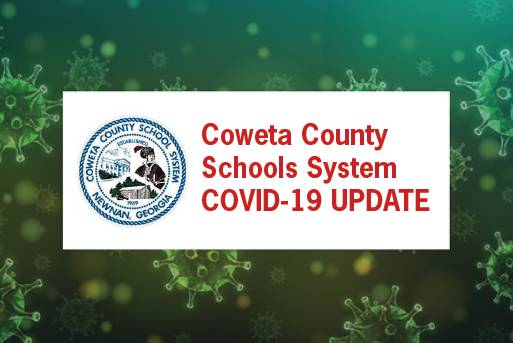 From Coweta County Schools Press Release
New cases of COVID-19 have continued to decrease among Coweta County students and staff in recent weeks.
After a significant surge of new cases among students and staff in August and September, decreases in new COVID-19 cases throughout October have trended downward to the lowest levels of COVID activity among staff and students since the beginning of the school year.
In its most recent week of tracking cases of COVID in Coweta Schools, the school system's School Health Program recorded just 19 new positive cases of COVID-19 among Coweta County's 3,000 staff and 23,000 students.  During the five-day period before that, 51 new cases were reported.  At the height of the most recent surge of COVID activity in Coweta County, in August, weekly totals reached a high of 391 new cases in one five-day period (August 27-September 2).
The decrease in COVID cases has allowed almost all of Coweta County's 33 schools to return basic preventative measures, with no Coweta schools on the highest precautionary tier.
"This is the lowest we've seen our case rate since we began tracking COVID numbers last school year," said Shannon Caplinger, director of the school system's School Health Program.
On Friday, October 15, Caplinger's office received no reports of new COVID cases on that day from schools.  The last time that occurred – no new Coweta Schools cases reported on a given school day – was June 23, 2020.
There are still cases reported in schools among staff and students, and per state requirements, those can often lead to quarantines of students or staff.  "But we are seeing far fewer cases right now," said Caplinger.
The school system also tracks reports of COVID-19 cases by school, and reports on the percentage of cases by total population each week.  
When Coweta Schools opened in August, Coweta County and the state of Georgia were experiencing rising levels of COVID-19 transmission.  Seven-day case rates during the second week of school (August 7-12) were 0.40% of population system-wide, and rose to 1.07% of population by the week of August 13-19. The school system posted its highest seven-day positivity rate – 1.73%.of students and staff reporting new cases – on August 27.
All 33 Coweta County schools employ baseline COVID-19 mitigative measures, including encouraging (but not requiring) all individuals to follow CDC guidance to wear a mask while in a school, requiring masks on school buses per an ongoing federal order, social distancing where practicable, recommending self health-checks for students and staff, cleaning and hygiene measures, and participation with the Georgia Department of Public Health to perform close contact investigations where needed, with the Georgia Department of Health making final determinations of quarantine in those cases. 
As cases rose in August, the school system worked with the Georgia Department of Health to change quarantine procedures, and implemented a "tiered" system of increased mitigation at schools that showed a seven-day case rate of 1% or higher (tier 2 precautions) and 2% (tier 3 precautions). Once decreasing rates fell below 2% or 1%, the added measures were curtailed. How each school is affected by current mitigation tiers can be found here.  Weekly case rates for each school and the system as a whole can be found here.
The system's seven-day case rate has declined to 0.07% by last week (ending October 21), however, and the low case rate has continued.
Currently, because of the low case rates, Coweta schools have no requirement for face masks or other highest-tier precautions in place.  Only two schools are under "tier 2" precautions, with restricted visitors and other measures, and both are expected to come off those higher precautions in the coming week assuming current school trends continue.
"The goal has been, first, to keep our schools open," said Superintendent Evan Horton.  "We have followed the data school-by-school, and let that determine where we need increased measures. We feel that this approach provides us with the information needed to make strategic data-driven decisions. And when the data indicates that conditions have improved, we lessen measures to those of our baseline plan."
"Our goal has also been to maintain in-person student instruction in the least restrictive manner possible," said Horton."It has been an attempt to balance a desire for a normalcy at our schools with the needs for extra mitigation when the data indicates it."
"COVID-19  hasn't gone away," said Caplinger," but we are seeing fewer and fewer cases in our county and around that state, and our community case rates correlate to what we see in our schools."
"Our schools, in turn, and our Department of Health, have also gotten better over time at tracking and responding when we do see outbreaks or when we see an uptick in cases at a school," said Caplinger.  "Our protocols and processes are much better than they were this time last year."
"That doesn't mean we aren't fatigued, or that we are not tired of COVID – everyone is tired of dealing with it – but we are better at it," said Caplinger.