Mr. Personality: Bolton's Bakery, WQEE, Dan Nix and Spiritual Love Letters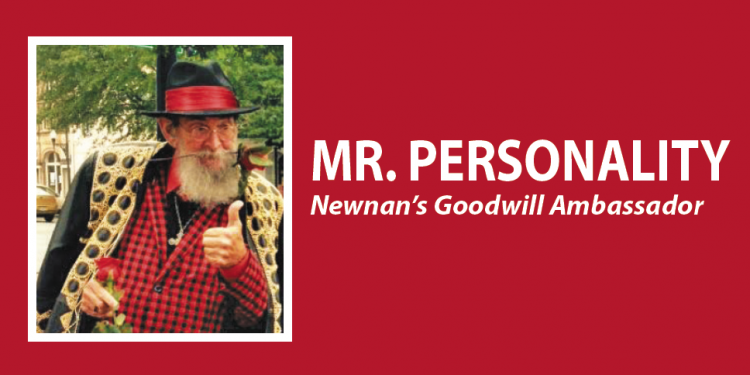 By Mr. Personality, Special to The Paper
August, the month for saying goodbye to the lazy days of summer and tie to prepare for school.
I'm looking forward for as many market days as we have left, a truly fun-filled event that I enjoy so very much.
Each time I read "The Paper" I am impressed by the many interesting columns written from many different perspectives. I am proud to make a small contribution to "The Paper" in the form of my own Mr. Personality column. It truly is an honor.
The treasure of the month for the Courthouse Square, the best kept secret in all of Georgia, is Bolton's Bakery located at 13 East Broad St. They have such tasty cakes, cookies and fresh pies, plus coming soon Mr. Personality cookies made in my image. Be sure to call in your order today. The phone number is 678-673-6680
Be sure to tune in to WQEE 99.1 FM at 9:30 a.m every Thursday for the Mr. Personality, Newnan's Goodwill Ambassador, Radio Show. You can call Ryan ONeal if you have comments or suggestions, at 678-673-6318.
On July 20th, I had the pleasure of visiting the Monarch House, an assisted living facility located at 299 Bullsboro DRive where I had the opportunity to meet Dan Nix, a one-man musical combo. Dan also did a tribute to Elvis.
Should you ever need such a talented entertainer, call 808-896-6875. Tell Dan he has been Mr. Personality approved.
By the time you read this column, I will have turned 70, Aug. 5, and I am so very blessed to have reached this mile marker in life.
Looking back I can now see where I have always been guided and protected by Divine Spirit. It seems I have to grow old to better hear God's sweet voice.
Once my heart, mind and spirit became as one, my entire life transformed into a spiritual journey that is still going on and evolving day after day.
I truly do not have the words to fully express my long spiritual journey. I am, however, right this very moment experiencing a higher level of spiritual bliss that has me in a state of extreme happiness.
I have received so many amazing gifts from Divine Spirit that I am always in a constant state of euphoria. Everything from my God-given transformation to being sent to this wonderful spirit-filled town, plus my God-given spiritual love letters ministry, all gifts of Divine Spirit.
I now have 297 kindred spirits on my mailing list. Each kindred spirit is indeed very special and precious to my heart and spirit. I am truly living heaven on earth one day at a time. I know God is closer to me than my next breath. Praise God.
If you would like, you may write to: Mr. Personality, Spiritual Love Letters, c/o The Paper, PO Box 757, Newnan, GA 30264
Thank you, until next time.