Mr. Personality: One black shoe, one white shoe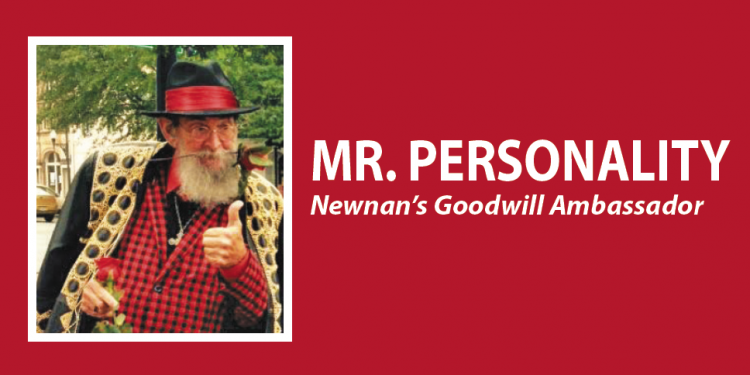 By MR. PERSONALITY, Special to The Paper
March, the month for St. Patrick's Day and the first day of spring.
I am indeed looking forward to spring as I am a tad weary of having ice in my underwear.
You may have noticed my wearing one black shoe and one white shoe. Plus I have another pair just like them at home. I got the idea from some guy that got the idea from some teenager at some school. This guy thought it was cool and so do I. 
You see it symbolizes equality, black and white standing side by side and walking together. I would love to see everyone, all walks of life, wearing a pair of equality shoes by spring, that would be so cool.
The downside is having to buy two pairs of shoes. One pair white and the other pair black. However, I suggest that you simply share your second pair of equality shoes with someone that has the same size feet you do. Make a statement and share the love at the same time, a win/win.
I am blessed to be meeting so many people moving to Newnan, it seems like by the busload. They are indeed moving to a wonderful town that is overflowing with kind and loving people. 
My first advice to them is to pick up a copy of "The Paper" simply because "The Paper" has a ton of information about Newnan, the Square and Coweta County. And of course, there is always Mr. Personality's column, a most entertaining read, yes, indeed.
It was cold and wet for a spell and I spent two days in bed. No, I was not sick, I just stayed in bed counting my blessings and relieving the past eight years of spiritual experiences. 
It truly put my reason and purpose into proper perspective. We should all take a time out to think about what truly matters and ask yourself if I die tonight, would I have left with people knowing I loved them? Was I too busy? Good question.
The Book of the Month is titled "Three Essays On Universal Law," the laws of Karma, Will and Love. This little handbook answers some big questions on three deep topics. I have read it once and I shall read it six more times just to ensure I have a full understanding as my little human brain can hold. 
That is six times back to back.  I am on my second reading today. I do of course expect to read things I did not notice the first time and so on.
The Law of Karma is also known as the Law of Cause and Effect. The essay on the Will may give you a better understanding just how much and why using the Will is anything but easy. 
The essay on Love is just as deep as the first two essays and the entire book is to be applied to one's daily life. It is truly intended to be live, and not just read and tossed aside. 
Until next time, love and respect
Mr. Personality
Write to:
Spiritual Love Letters Ministry
C/O The Paper
PO Box 757, Newnan, GA 30264