The History: Life & legacy of Coweta's 1st documented slaves – Sinai and Henry Reynolds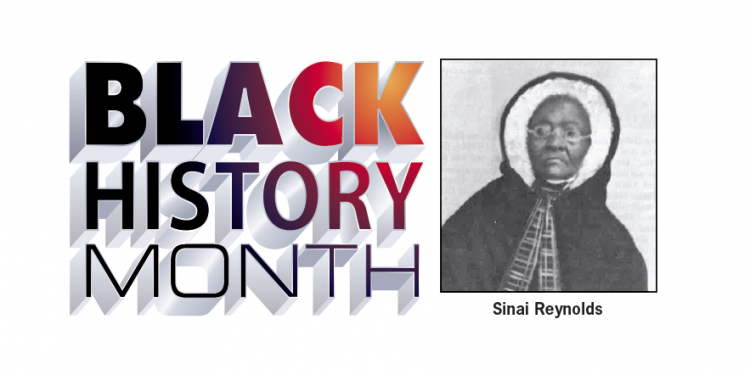 Editor's Note: Our Black History Month tribute is a look into the lives of Coweta County's first documented slaves – Sinai and Henry Reynolds – and the legacy they left behind. Emily Kimbell's research also discovered a very prominent member of the Reynolds family was singer, dancer, actress and civil rights activist Lena Horne.
By Emily Kimbell, The Newnan-Coweta Historical Society
Sinai Reynolds, born in Maryland circa 1777, and her husband Henry Reynolds were the first slaves mentioned by name in Coweta County history. Though Sinai's early life history is unknown, she was living in North Carolina by 1810 with her husband and infant daughter, Nellie, as the property of Silas Reynolds.  During the time of the cotton boom in Georgia, Silas moved the family to Coweta County.
Sinai was considered to have a "favored slave position" due to her status as a household cook and her ability to read and write—a skill that was incredibly uncommon and illegal in some instances. Despite the terrible conditions under which Sinai lived, she was a resourceful and determined woman. She negotiated an agreement to earn her own income and became known in town for selling homemade ginger cakes and permission beer on the local street corner.
Unfortunately, her more "independent" status caused contention among town, and in 1839, the grand jurors of the Superior Court of Coweta County mandated that Sinai and Henry be "placed under the immediate control and management of some white person." In response, Silas Reynolds sold Sinai and Henry's son, Felix to his neighbor William Nimmons on June 5th, 1832 for $200. Two years later on April 4, 1834, Silas sold Sinai to Nimmons for $300. She was sixty years old at the time.
Even though earning your own money as a slave was not a common practice, fortunately, Sinai was able to continue her previous working agreement with William Nimmons. Slave owners who did allow slaves to earn money did so under an arrangement called "hiring out their time"—which profited the slave owner as well. This is the type of arrangement that William Nimmons had with Sinai and Henry Reynolds.
Under this agreement, a percentage of any money earned was paid to the slave owner. In addition, slaves were responsible to pay for food, housing, clothing, and supplies for themselves and any of their children that lived on the plantation. Any money left over could be kept and saved. It took Sinai and Henry until 1859, after decades of being enslaved, to purchase their freedom and the freedom of four of their children. The freed Reynolds family moved to Chicago, Illinois.
Though Sinai was able to earn her freedom, her life certainly came with intense heartbreak and tragedy. Two of her children born between 1810 and 1817 were taken from her—one sold to slave owners in the state of Mississippi, the other freed and sent to colonize Liberia. Her daughter Nellie remained enslaved in Coweta County, the cook of A.B. Calhoun. Sinai only enjoyed freedom for ten years, passing away at the approximate age of 92.
Sinai's legacy has lived on and many of the Reynold's children and grandchildren became prominent members of their communities. Two of Sinai and Henry's sons became barbers and Nellie's son, Moses Calhoun (who was freed from slavery after the Civil War) became a prominent restaurateur and member of Atlanta's black bourgeoises. Perhaps the most prominent member of the Reynolds family was Lena Horne—American singer, dancer, actress and civil rights activist. May the story of Sinai's courage, tenacity, and boldness be remembered!
•••••••••••••••••••••••••••••••••
Newnan-native, Emily Kimbell is the director of the Newnan-Coweta Historical Society and McRitchie-Hollis Museum. Emily is currently finishing her doctoral studies at Georgia State University, where she also teaches English Composition courses and is an active member of her community often seen on stage in local theatre productions and writing for local media outlets.