Front Porch Stories: 'I would rather eat a bug!'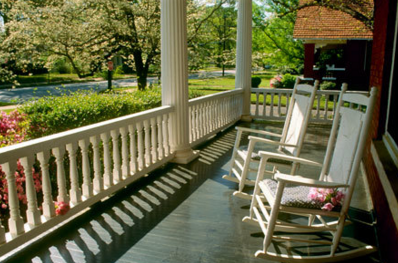 By KATHY BOHANNON, Special to The Weekly
I'm not a fan of medical tests, and I don't really know anyone who is. While mine are (usually) routine, I would, as my cousin-sister-friend Sally says, "rather eat a bug."
My next exam is the vision test. That whole dilating the eyes thing is just downright annoying. 
Sometimes they blow air on the eyeball. They always tell me to be "very still." Seriously? I do not actually plan on jumping out of my seat, but it's nearly happened a time or two. 
A few years ago, one of those eye exams resulted in cataract surgery. My doc explained the process during my surgery consultation. Using a huge plastic eyeball, he demonstrated how the surgery is performed. I was still processing that information when he said that part of the plan was that I would be awake during the procedure so he could "communicate" with me. 
I blinked. 
"Wait," I said. "How about we just chat beforehand? I mean, what do you want to know? I'm an open book!" I tried hard to counteroffer. "We can even have coffee, it doesn't matter, just knock me out for this procedure. I'm a bit concerned that if I see you coming toward my eye with those sharp tools, it may get a bit dicey between you, me and the majority of anyone else in the room." 
He laughed. 
This particular doctor often laughed and while that was one of his most endearing qualities, I was doggone serious. 
"Let me just say," he began, "We will give you something to help you relax and you really won't care if I take your eyeball out and play marbles with it." 
He was right. 
They indeed gave me just the right amount of whatever-it-was and all I remember from the entire procedure is seeing color. I was ever so thankful I didn't come off that surgery table ready to fight with half an eye. I asked him for a doggie bag of that special serum. Spoiler alert: I didn't get it. 
Another test that annoys me is the annual mammogram. It makes me very grumpy. 
While I'm thankful we live in a culture where we have access to medicine and medical exams, I'm always on edge when it's my turn. My bestie and I used to do these things together, and often went to lunch and shopping after. This definitely took the edge off of the day. But I moved back to Newnan and now we just chat on the phone about the upcoming exam and encourage one another. 
I had a mammogram recently, and was delighted to know that they still keep the gowns in this fancy toaster-oven kind of thing, and heat them up to the most perfect, cozy temperature. It's seriously a luxury, and I hope they never stop offering this comfort. It's also always a surprise, because I really don't think about it beforehand, and I'm always grateful when I am given the warm gown. 
I also appreciate how the machines have been improved over the years. Any woman who has had mammograms since the 1980's knows what I mean. Let's just say modern technology is our friend. 
October is Breast Cancer Awareness month, but we don't have to wait for the calendar to flip before making an appointment. If you're hesitant, get a friend to go with you. You can always look forward to a lunch date after! 
Kathy Bohannon is a freelance writer and Christian humorist. She can be reached at [email protected].